ooooThe Building Research Institute (BRI) was established to bring sound and orderly development to the housing, building and urban community by enhancing various technologies related to housing, building and urban planning. To fulfill this purpose, the BRI has been mainly conducting R&D (research and development) and international training programs on seismology and earthquake engineering. The BRI has been carrying out technological guidance to other organizations, as well as data dissemination and worldwide cooperation work. The BRI is a public research institute managed as a National Research and Development Agency. It aims to maximize the results of R&D in order to contribute to the stable development of national economy and public welfare through the development of science and technology.
ooooThe BRI's medium- and long-term R&D goals are directed by the Minister of Land, Infrastructure, Transport and Tourism in consideration of the present and future of Japan. The current goal (valid from FY 2016 to 2021) is to realize sustainable housing, buildings and urban communities. Towards this goal, the BRI has prepared two programs: the "Safe and Secure Program" and "Sustainable Program", as well as conducted R&D that contributes to reduction of CO2 emissions and to people's safety/security. The R&D is carried out in cooperation with stakeholders from industrial and academic sectors, and most of the results will be shown to the world via new regulations and standards related to building technology.
ooooIn this way, the BRI will progress with R&D under the Minister's directives, fulfill its own role and link the results to contributions to society.
April, 2016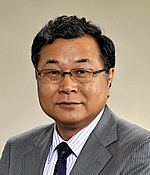 President
Dr. SAKAMOTO, Yuzo
Ph.D in Engineering
Professor emeritus
in the University of Tokyo