ooooThe BRI has been established in order to enhance various technologies related to housing, building and urban planning. This purpose will bring sound and ordered development of housing, building and urban community. For this purpose, the BRI has mainly conducted R&D(research and development) and international training on seismology and earthquake engineering. The BRI has also carried out technological guidance and dissemination to other corporations, as well as international cooperation. Furthermore, the BRI was given gNational Research and Development Agencyh as name of corporation on April 2015. It means that the agency, namely BRI, aims to ensure achievements of R&D as much as possible to contribute to stable development of national economy and to various public welfares through development of science and technology.
ooooThe goals in R&D of the BRI are designated by the Minister of MLIT, considering the present and future of Japan. Recently the BRI has been devoted to studying four subjects: "realization of safe and secure housings, buildings and urban communities", in which we must take account of knowledge obtained through unprecedented disasters caused by the Great East Japan Earthquake, "promotion of green innovation for housings, buildings and urban communities", "maintenance and renovation of existing housings, buildings and cities in aged society" and "contribution to international society and guidance to ICT in building technology and urban planning".
ooooIn order to contribute to resolution of the above issues, the BRI will put all of its energy into pursuing R&D and so on from viewpoint of public sector in cooperation with stakeholders of industrial, academic and governmental sectors.
April, 2015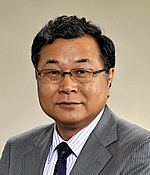 President
Dr. SAKAMOTO, Yuzo
Ph.D in Engineering
Professor emeritus
in the University of Tokyo