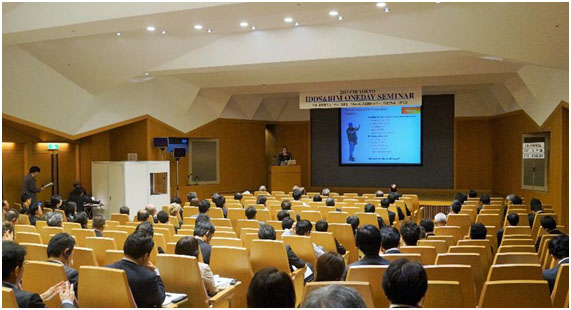 Opening session / 10:00 - 10:30
 Opening
 Addresses by Dr. S Shyam Sunder
 Addresses by CIB President and Wim Bakens, CIB Secretary General


 Morning session / 10:30 - 12:00
Speaker_1
Affiliation & Position
Title
Helena Soimakallio MSc
Finnish Association of Civil Engineers RIL Managing Director and CEO
New Business Models in Construction - Results of the Finnish BIM Survey 2013
Abstract
BuildingSMART Finland published in August 2013 the results of the national survey on Building Information Modeling. The results are especially interesting for two reasons. Firstly, Finland has a reputation of being the global BIM leader. Secondly, the same survey template has been used in the UK, New Zealand, and Canada, which allows us to make interesting comparisons. Results show, that client requirements and pressure from contractors seem to be strong drivers for the use of BIM. On the other hand the adoption of BIM has not yet clearly increased profitability for the majority of users. Perhaps this is due to seeing BIM predominantly as a technical solution, not as a business opportunity. It is evident, that adopting BIM is demanding and a continuing process. It is the biggest change in work practices since the introduction of CAD. Not only does it require investment in new tools, but also new skills and changes in core business processes.
Speaker_2
Affiliation & Position
Title
Dr. Mohammed Dulaimi
The British University in Dubai and Director of CIB MENA, Professor, Project Management and Innovation
The dynamics of innovation and integration in construction
Abstract
The construction industry in the GCC region, and especially in the United Arab Emirates (UAE), has had a significant role in building nations. The positive business environment and the nature of structure of the construction industry have encouraged and enabled the adoption of innovations such as BIM. The presentation will provide an overview of the construction industry in the region, using the UAE as an example, to explain the challenges construction industry faces in adopting more integrated working and the adoption of advanced technology. It will also highlight the progress achieved and the enthusiasm BIM has generated in the local industry
Speaker_3
Affiliation & Position
Title
Dr. S. Shyam Sunder
Senior Advisor for Laboratory Programs National Institute of Standards and Technology, USA
Deploying IDDS in the U.S.
Abstract
Leaders in different sectors of the capital facilities industries are adopting IDDS. This presentation will examine strategies, challenges, and initial successes from the Infrastructure, Process Plant, and Government Facilities sectors and promote discussion on key challenges and insights that might be applicable to other sectors.
 Afternoon session 1/ 13:00 - 15:00
Speaker_4
Affiliation & Position
Title
Takashi Shiokawa
Japan Federation of Construction Contractors, Research and Development Committee, Technical Research Section Chairman Obayashi Corporation, Technical Research Institute Executive Officer and General Manager
Building Construction and BIM in Japan
Abstract
In Japan, there are a lot of active construction companies under different conditions from foreign countries. For example, usual contract in Japan already includes the coordination between concerning persons or companies of a building project, which is expected to be merit of BIM in oversea countries. So, in Japan, the driving force of BIM is not strong, however, architects, engineers, contractors, and sub-contractors try to spread BIM aiming at future rationalization of building construction process.
Speaker_5
Affiliation & Position
Title
Endo Ken
Technology Development Dept.
Building Construction Management Div.
Kajima Corporation
BIM on Cloud Introduction of Global BIM server
Abstract
For construction companies, business field is not only in Japan but Global. In this session, I will introduce "BIM centric production model" in Kajima and how we use it for global collaboration.
Speaker_6
Affiliation & Position
Title
Yusuke Yamazaki
Senior General Manager
Institute of Technology
Shimizu Corporation
3D/BIM applications toward Construction Innovation
Abstract
The topic aims to suggest future direction of Computer Integrated Construction (CIC) toward construction innovation focusing on 3D/BIM applications in recent large-scale construction projects. Also former related researches and discussions in CIB W78 are to be presented.
Speaker_7
Affiliation & Position
Title
Hiroshi Miyakawa
Obayashi Corporation, Building Construction Division PD Center General Manager

BIM Utilization in TOKYO SKYTREE
Abstract
TOKYO SKYTREE is a 634-meter-high self-standing broadcasting tower. Its structure consists of approximately 37,000 circular steel tubes. In order to accurately erect the structure, it was critical to implement BIM. Obayashi ensured the highest quality of the tower by utilizing BIM in various applications: steel fabrication, on-site accuracy control, steel erection planning, and schedule simulation.


 Afternoon session 2/ 15:15 - 16:25
Speaker_8
Affiliation & Position
Title
YUTAKA AMEMIYA


ICHIRO FUJIOKA
CHIEF MANAGER Design System Office SEKISUI HOUSE, LTD.

SECTION MANAGER Design System Office SEKISUI HOUSE, LTD.
BIM Enhancement on BIM Evolution
Abstract
The history of house makers' system in Japan had been like BIM approach by itself. By encountering with BIM, we are trying to draw the strategy which goes beyond our existing system.
Speaker_9
Affiliation & Position
Title
Masaki MUTO
Senior Research Engineer
Department of Production Engineering, Building Research Institute
Study on application BIM technologies for building certification on technical standards conformity
Abstract
To introduce electronic submission for building certificate procedure including BIM technology are expected for streamlining on confirmation of building technical standards. And some countries already started electronic submission with BIM technology now, e.g. Singapore.
Building Research Institute executes the R&D project which is aimed to clarify bottlenecks in conventional building certificate procedure, subjects of introduction electronic submission and application possibilities of BIM on the procedure from FY2013 to FY2015. This topic gives a progress report of our R&D.

 Closing session / 16:25 - 16:30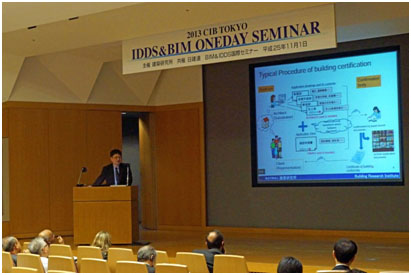 Presentation by Dr. Masaki Muto, BRI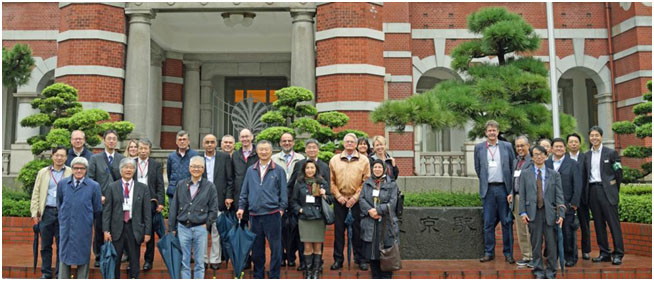 2013CIB Board meeting Technical Visits