BRI had concluded a comprehensive research cooperation agreement (Memorandum of Understanding) with VTT Technical Research Centre of Finland Ltd., a research institution in Finland, on 24 November 2015.

VTT and BRI had been in a partnership from the past, for instance, both had entered into a research agreement in fields of maintenance and fire safety, since BRI was under the former Ministry of Construction.

The new research cooperation agreement is to strengthen mutual cooperative relation.

On 26 November 2015, VTT Senior Scientist Mr. Timo Kauppinen visited BRI and exchanged Memorandum of Understanding with President Dr. Yuzo Sakamoto, and exchanged views with researchers of BRI.

By this conclusion of research cooperation agreement, enhanced interaction between both parties is expected in the future, such as mutual interaction of researchers and holding of collaborative workshop.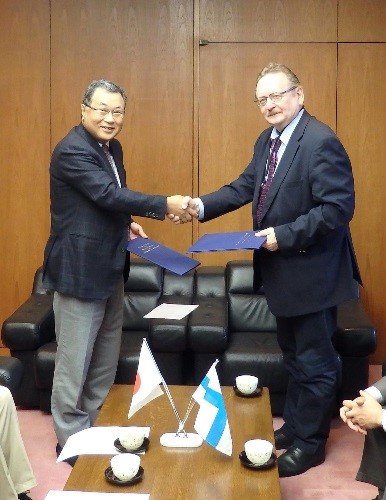 President Dr. Yuzo Sakamoto exchanging
Memorandum of Understanding with Mr. Timo Kauppinen