The LCCM (Life Cycle Carbon Minus) Demonstration House
The LCCM (Life Cycle Carbon Minus) Demonstration House was completed in the premises of the Building Research Institute (BRI) in February, 2011. To calculate the amount of CO2 emissions from construction accurately, a detailed investigation was executed including waste emissions, etc. The energy consumption and the thermal environment under simulated living in this house are being investigated in detail now.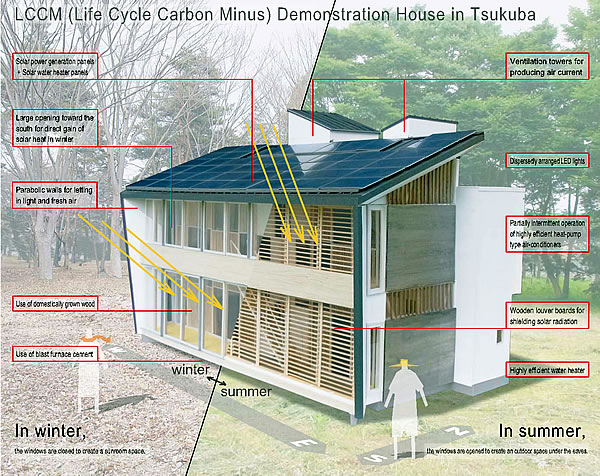 | | |
| --- | --- |
| | |
| In winter, the windows are closed to create a sunroom space. | In summer, the windows are opened to create an outdoor space under the eaves. |
Design concepts
A wide discussion was done together with specialists in each field of design,building method, architectural plan, ambient behavior, environmental engineering, building utility and wood-based material, and the following six concepts were derived. "House of changing dress for the season" is achieved through these.
1. Multilayer structure

Layers of different roles are superimposed to create zones of different characteristics.
2. Striped plan configuration

Zones for various activities performed in the house are arranged in a stripped plan.
3. Piled up sectional configuration

Openings for natural lighting and entrances and exits for people and air currents are piled up vertically to fill the house with natural light and fresh air.
4. Modes
Building modes appropriate to the season and lifestyle are actualized by opening and closing the layers of various performances.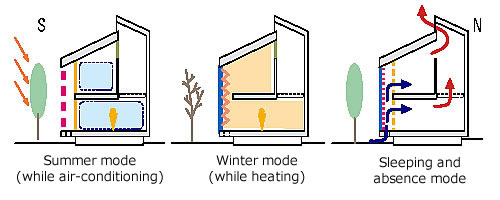 5. Use of natural energies
The open facade toward the south and the ventilation towers on the northern side let in light and fresh air.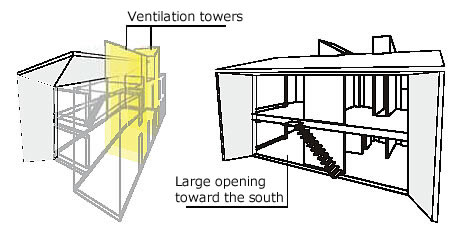 6. Thermal environment and space configuration appropriate for each activity
Rooms in the house are arranged so that the conditions are appropriate for the activities performed in the room.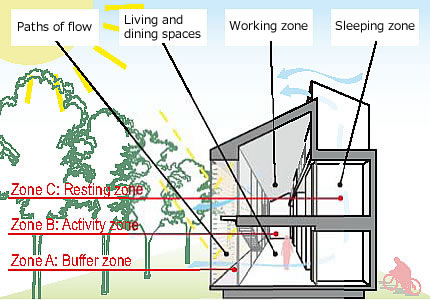 Design process via simulation
1. Simulation of thermal conditions

Thermal conditions are reproduced by using 1)air-conditioning and heating loads, 2)temperature changes, and 3) differences in temperature between rooms as evaluation items to estimate the heat insulation and other performances of the openings and the building.
2. Simulation of air flows

The size of openings and the shape of the roof are determined by investigating the distributions of airflow velocity for different positions of openings and different shapes of the roof by mainly using the dominant wind direction in spring, autumn and summer and conducting CFD (computational fluid dynamics) analysis.
3. Simulation of lighting

Both natural and artificial lightings are reproduced, and the positions of windows and lighting fixtures are investigated so as to prevent glare in the southern rooms and determine efficient arrangements of highly efficient lighting fixtures (LED).
4. Investigation of initial CO2 emissions

Construction materials and methods are investigated to reduce the (initial) CO2 emissions accompanying the construction.
Outline of a plan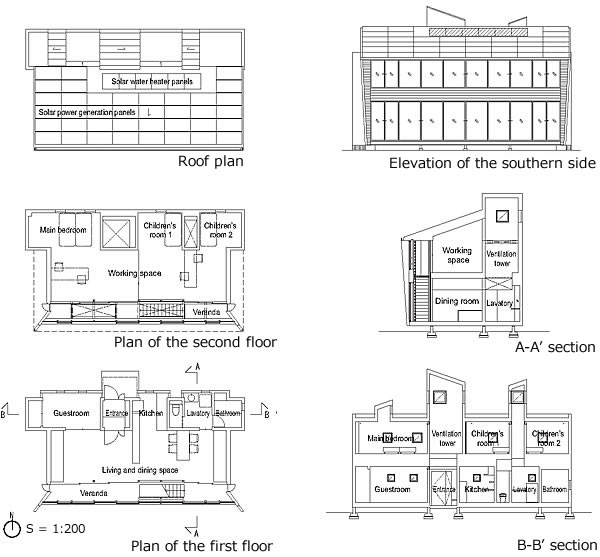 Specifications of the house

Scale of the building: Total floor area: 143 m2
(43 tsubo)
A family of 4 is assumed.
Structure:
Conventional wooden structure with 2 stories
above the ground



Specifications of the building frame

Foundation: Strip foundation of blast furnace cement
Framework: Domestically grown timber
Heat insulation performance: Equivalent to the next-generation energy saving standards for Class II Region
Opening: Wooden airtight window frames + resin window frames (partial)
Wooden louvers for solar shading
Heat-insulating roller shades
Roof:
Metal roofing
Exterior wall:
Ceramic siding
Metal panels
Wooden panel boards

Main installations

Solar power generation panels of about 8 kw
Heat-pump type air-conditioners
Heat-pump type water heater with solar water heater
Household fuel cells
LED lightings
HEMS (Home Energy Management System)



Overview of the work

Construction and plumbing: Gunji Construction Co., Ltd.
Measuring instruments:
Measuring Engineering Consultation
Design and supervision:
Koizumi Atelier
Advisor:
Life Cycle Carbon Minus House Research and Development Committee
Construction schedule
Construction started in July 2010 and will be completed in January 2011.
Measurements will start in February 2011.
Construction site:
Within the grounds of the Building Research Institute